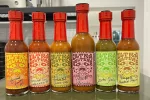 Branding
Design Trends
It doesn't matter how good your product or service is, if people don't know about you, what's the point?
Now is the time to express your identity.

Take inspiration from these top branding design trends to create a visually pleasing brand that customers will love.
Branding Design Trends: Who You Are Matters Now
As businesses continue to emerge since the pandemic, and consumer spending continues to fluctuate across industries, standing out is critical to success.
Now is the time to express your identity.
As consumer behaviour has changed in recent years, people have become more conscious about how they present themselves, which also affects their buying decisions.
People prefer brands that resonate with them, or, for a more superficial, but obvious reason, they prefer brands that look good and pretty (with social and community responsibility becoming a baseline expectation, not an extra benefit).
The key to distinguishing yourself from your competition, gaining loyal customers, and growing your business is to create a brand identity that visually represents who you are and what you do.
If you are struggling in this department, fret no more!
Take inspiration from these top branding design trends to create a visually pleasing brand that customers will love.
1. Timeless Transition
Gradients are design elements that show a gradual blending of two or more colours of the same shade, completely different colours, or from colours to transparencies.

Smooth gradients are notorious for looking better on screen than in print. However, improvements in print technology combined with current trends of blending gradients with images or textures, are creating eye capturing effects on products, signage and marketing alike.

This increasing popularity has been reflected in online apps (like Messenger, Instagram, Firefox, and iTunes) embracing this trend, as well as the emergence of gradients across a broad range of industries from skincare to motorsports.

2. Future is the Future
With technology progressing and everything becoming digital, we can only anticipate a hypermodern world in the not too distant future. As a result, some brands are adopting futuristic and tech-based designs. With this design trend, your branding will look sleek, innovative, and remain relevant to the next generation.
3. Let's Bring it Back
People are drawn to nostalgia during these uncertain times because it reminds them of the good old days.
To create a nostalgic feel of the past in branding and marketing, designers take a lot of inspiration from the early digital aesthetics, which range from neon, strobes, and grids in the 1980s, vibrant colors, classic icons, and old school fonts in the 1990s, to candy colours, goth aesthetics, and Y2K in the 2000s.
Adding modern flair to this branding design will make the brand more appealing to the younger generation while retaining a sense of comfort for the older generation. Certainly, retro style will never go out of style, as it resonates so well with people.
4. Chaos is Fun
Adding unexpected graphic elements or styles can attract attention - if your brand story allows it.
Consumers' attention is being pulled in all directions, but a design combination that wouldn't normally 'fit' together can grab their attention. Of course, when you look at the graphic again, your creative needs to be able to add context to it, so that the client has an ah-haa moment rather than shaking his or her head in frustration.
It's okay to be quirky, but make sure everything works together.
5. Less is More
Contrary to chaos theory, many well-known brands (regardless of industry) adhere to minimalistic designs that utilise monochromatic colour schemes, muted shapes, and typesettings.
In this fast-paced era, many would argue that people's attention spans are getting shorter. This knowledge is influencing many large brands to simplify their logos - using plain fonts, fewer colours, and removing shadows and graphics to create a minimalist design that has higher recognition - and perhaps even helps to de-clutter their users' world. 🙂
Whatever type of business you run, we hope this enlightened you as to why brand identity is so important and how branding designs can contribute to your success.
When it's time for planning your next printing project, the Same Day Printing team are here to help you ensure the world not only sees but feels your brand.
We look forward to being a part of your brand story!
Looking for more Marketing Inspiration?